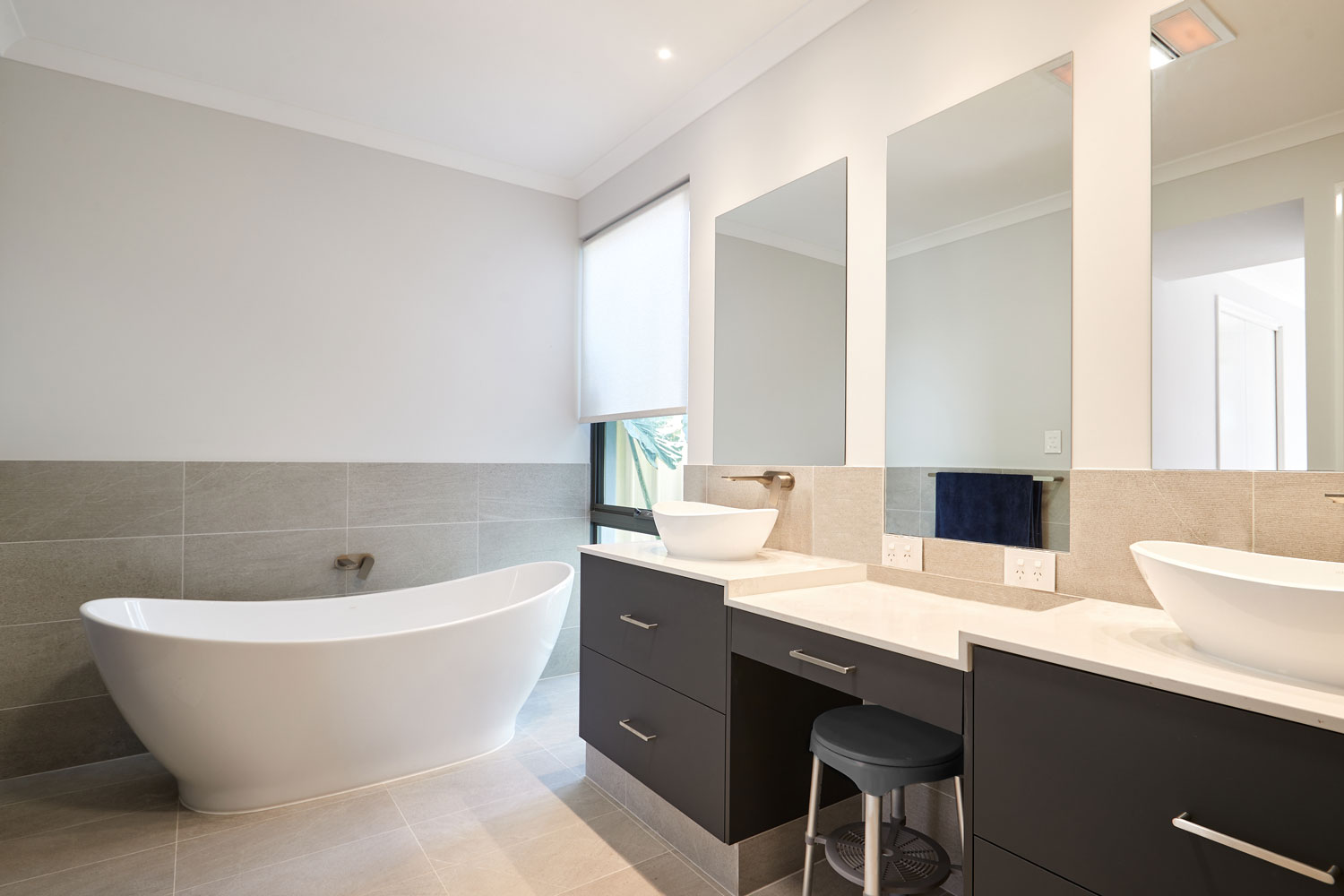 Bathroom & Kitchen Finishes
Fixtures and fittings act like jewellery for the bathroom and kitchen and should make a statement. It's always a smart investment to choose well-designed, quality pieces that add value to the home. There are some amazing styles and finishes on the market, so if you want to give your home a stylish boost, explore the currently trending options below.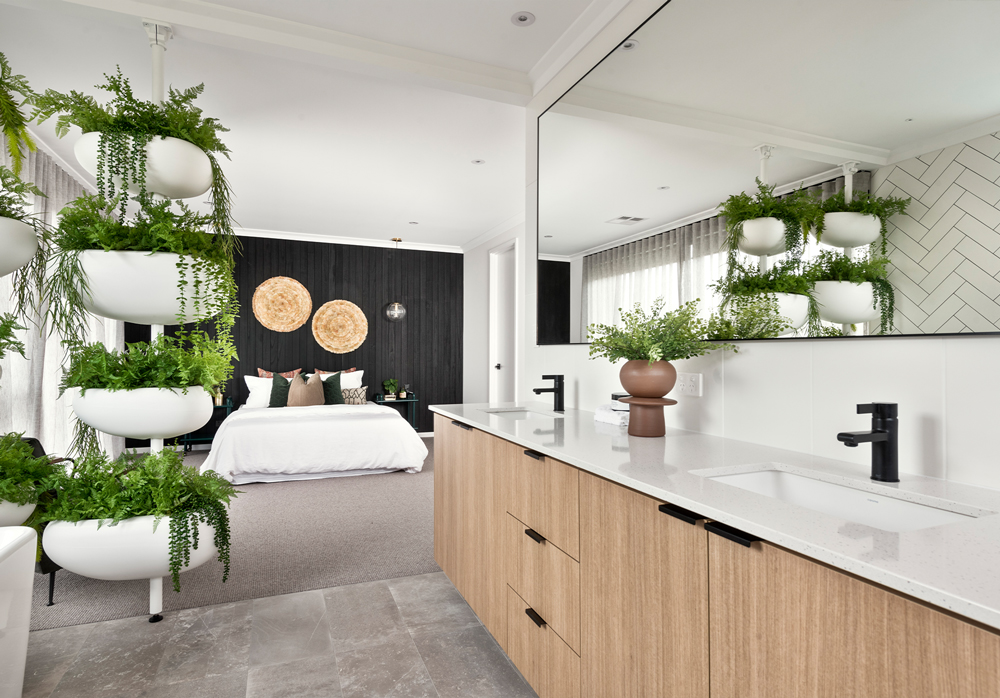 MATTE BLACK
We're huge fans of black tapware, our #38 home features some stunning matte black taps in the bathrooms and kitchen. For a confident and stylish statement in your home, opt for matte black tapware. It will complement simple, monochromatic environments and is easy to maintain, resisting fingerprints and watermarks. To go for the industrial-inspired look, try pairing it with concrete, timber and tarnished metals when styling.
COPPER
Dark and distinctive, copper finishes will bring a feeling of beauty and warmth into your home with its unique characteristics. Showcasing stunning earthy tones, copper has an eye-catching appearance that creates a luxurious ambience, effortlessly enhancing the design of your home.
CHROME
Chrome is the most common of all finishes as it suits the majority of home designs and can complement a range of colours and materials – from stone benchtops to timber flooring, white basins and black tiles. Whether the design of the home is minimalistic or highly decorative, the versatility of chrome finishing's can bring synchronisation or add the desired effect to bolder designs and darker textures. Chrome finishing's have a timeless appeal and are the safe choice for those wanting a home that will stand the test of time.
BRUSHED
Subtle yet elegant, brushed tapware has a natural attraction with other matte and natural finishes and is reasonably mark resistant. Similar in appearance to stainless steel, brushed platinum makes an ideal choice for a range of graceful styles and exciting design concepts. Add some subtle highlights to fixtures in a light-filled contemporary home, or if you want to add vibrancy to your space, try brushed rose gold or gunmetal finishing's.
TILE TRENDS
Tiles are a vital player when it comes to interior design. Tiles set the tone and atmosphere of your place, so choose wisely! Here are some of our classic tile choices when it comes to tiles in the bathroom, kitchen and beyond.
TERRACOTTA
Terracotta tile is made from a natural material that adds a rustic tone, creates warmth and brings comfort to a space. Yes, terracotta has made its terracotta comeback. Terracotta tiles are used in a new and unique contemporary way featuring large, long, hexagon shapes and paired with pastel tones. Terracotta varies in thickness, size and colour, there is no limit to where it can be used, which is why it will be so appealing.
GLAZED
Colourful glazed tiles are growing in popularity due to demand for the handmade-look tile. Anything that will add earthiness to a space is great, especially paired with other bold colours. Glazed ceramic tiles are the most widely used tiles for bathrooms, kitchen backsplashes, and laundry areas. They have a glossy appearance which makes them easy to clean, stain and scratch-resistant, and fire-resistant.
PATTERNED
It's time to bring out your personality into your home and consider experimenting with patterned tiles for your rooms. Fun tile patterns create a vibrant backdrop adding style to your kitchen. Geometric tiles are designed to create a purpose, allowing pattern and texture to shine in dull spaces. Consider selecting pattern designs to make a feature in your home, whether it be a wall or floor tile.
NATURAL STONE
Who would have thought cold, hard stone could feel so comforting. The concrete look is transferable to tiles, everything from faded, aged, veining and earthy tones for an overall calming effect. We love stone tiles in marble, limestone, slate, granite and sandstone.
BLACK ON BLACK
It never goes out of trend, black is here to stay. For an intriguing yet modern look, try black tiles paired with black grout for a sleek looking floor, feature space or backsplash. White shiny wall tiles with black floor tiles and black grout add a modern touch to the traditional bathroom.
MATTE FINISH
Matte finishes are still hugely popular among interior designers. A matte tile means the shape and colour of the tile becomes the main focus rather than the finish. They feature a soft but sophisticated beauty, and they do not show smudges and watermarks as easily as glossy tiles. Perfect for your bathroom benchtop or kitchen splashback!
If you are after a more mosaic design, try using both matte and gloss finishes. Combining the two will give a strong sense of dimension to a space and create a sparkle effect that shines from different angles when looking at the tiles.
CONTRASTING GROUT
Are you thinking of going with a subway tile? Get super stylish and try experimenting with dark and bold grout options. Dark grey is trending right now in grout choices paired with a beautiful white tile. It can give your home a bold, industrial or retro feel and hides the dirt in mess prone areas such as the stove and shower.
TERRAZZO
Displaying an irresistible statement of flair and versatility is the terrazzo tile, one which we expect to see more of this year. Terrazzo 'look' tiles are another great option for those wanting the unique aesthetics of a terrazzo but require something more low maintenance.
The pattern and natural stone of this tile is very appealing and effortlessly adapts to other colours and finishes in your home. If you are looking for something that sits between a classic look and modern design, then we recommend you go for this choice.
BATHROOMS THAT STAND THE TEST OF TIME
Did you know the average person will spend over a year in the bathroom throughout their lifetime? Yet the importance of a great bathroom layout doesn't dawn on you until you're rushing to get ready in the morning or longing for some afternoon bathtub unwinding.
When designing a bathroom in your own home, it is hard to balance functionality and style, all whilst keeping your household members happy. Whether you're a long bath, face-masked adorned kind of person or more a 2-minute shower, rushing out the door with toothpaste on your top kind of folk, your bathroom design should complement your lifestyle and evoke relaxation nonetheless. Whether a reno is on the cards or a brand new home in the works, these bathroom styles are sure to impress.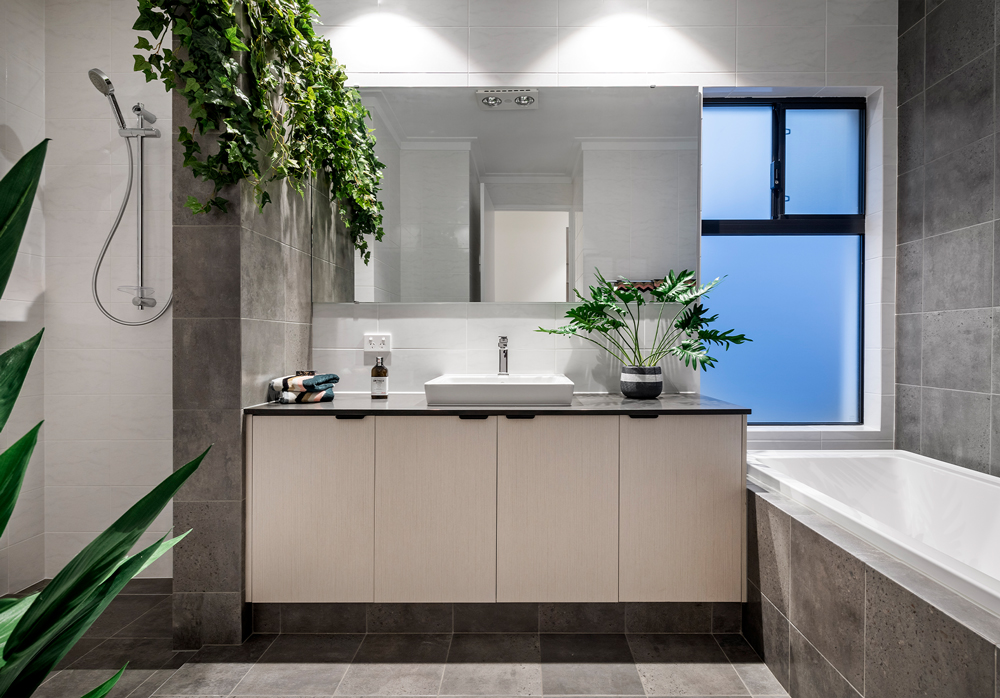 TREAT YOURSELF WITH TRANSITIONAL BATHROOM DESIGN
Your partner is a vintage connoisseur, but you are more of a tech-head. Balancing the line between traditional and contemporary, the transitional style will keep both ends of the design spectrum happy. Its colour palette includes cool or warm hues as long as they are soft and subtle. The features of the transitional design bathroom style are the shaker-style vanity, undermount sink, pedestal bathtub and enclosed glass shower. Our favourite element of this luxurious design is the classic lighting. Drum pendants, wall sconces or refurbished chandeliers really nail the finishing touches.
GET WOWED BY CONTEMPORARY CHARM
If your home is updated with the latest technology and trends, a contemporary bathroom space would be ideal for your home. Temperature control shower anyone? A modern design bathroom style will adopt the latest in new materials with minimal adornment keeping the focus on the handpicked features. Blacks, whites or any high-contrast colours will always suit this design bathroom style.
The minimal style allows the structural features to break the rules. Contemporary style strays away from heavy embellishments and traditional stylings and looks ahead to the next trends. Think sleek vanities, minimal faucets, glass shower enclosures with a statement tile wall. The finishing touch on any contemporary bathroom? The latest bathroom tech, have you checked out the smart mirrors?
LOVE MODERN AESTHETIC?
Streamlined and sleek, modern design bathroom styles elongate bold horizontal lines and lets the architecture shine. In contemporary bathroom design, there are no over-the-top details or unnecessary embellishments. The colour palette is geared towards crisp and clean whites, neutrals and blacks. Experiment with pops of colour through bath towels, mats and ornaments. We love the freshness of modern bathroom design, floating vanities, freestanding bathtub, frameless mirrors and streamlined lighting; it screams luxury.
If the Modern Aesthetic is leaving you feeling uninspired, you might fancy Traditional bathroom design. It is pure detail and nostalgia. Traditional bathroom design tugs on your heartstrings and remains timeless. It doesn't pay attention to trends. It relies on decorative details and high-end materials to deliver its classic touch. The colours tend to be relaxing and soft, even incorporating subtle blues and greens, or deep greys and wood tones.
The traditional bathroom design style is soft, elegant and should leave you with the ultimate level of relaxation. The features of traditional bathroom design are furniture-style vanity, stone counters, antique lighting, floor and wall treatments. Sounds like home? Take it to the next level with a classic claw-foot or pedestal bathtub and a dressing table.
STAY BY THE BEACH
The beach is one of the biggest drawcards for living in beautiful Western Australia. It is a place for ultimate relaxation, so why not incorporate that style into your bathroom design? Beach bathroom designs are light and airy, including many natural materials.
They merge various structural styles into their design like traditional or contemporary, as long as it feels coastal and relaxed. Coastal inspired colours are necessary to get that sand between your toes feeling, with crisp whites and various shades of blues. The beach design bathroom features are a bold title, a large spacious shower, and either wall panelling or statement wallpaper. Textured elements like pebble tiles and weathered wood will provide coastal accents.
BATHROOM DESIGN IDEAS
We are always trying to keep it fresh here at Residential Attitudes. We're allergic to boring, and anything but conventional when it comes to home design, especially bathroom ideas! Our aim is to inspire our homes! If you're serious about standing out from the crowd in your interior design, here are some bathroom design trends we think you'll love.
TILED PATH THE HEAVEN
Rather than splaying your tiles of choice all over your bathroom floors and walls, why not create a path to the focal point of your bathroom? A perfect way to highlight that gorgeous freestanding bathtub or statement basin, tile pathways in the bathroom give a real sense of purpose and grandeur to your bathing space.
PEBBLES GALORE
Tub time just got a whole lot more luxe as you relax amongst a bed of pebbles. If you are after a waterfall oasis retreat or day-spa elegance in your bathroom, you'll adore the freestanding bathtub on top of the pebbles look. Pebbles and stones are an easy way to add complementary colour and visual impact into the bathroom space.
It also acts as a safety measure! When you get out of the tub, the stones are your natural bath mat as they aren't slippery when wet and give you grip. Plus, walking on pebbles is a kind of reflexology proven to relieve tension and lower blood pressure. Bonus! If you don't have the space for pebbles around your tub, you can put a large bed of pebbles under a freestanding vanity to still provide that luxe spa feeling.
CREATE THAT GLOW
LED lighting is popular among all areas of the home, and it's a practical design trend certainly here to stay. Aside from the atmospheric glow it creates, it just makes sense! In the bathroom, LED strip lighting behind your mirror, along with perimeter panelling, beneath your bathtub or the ceiling can highlight focal points and guide the gaze.
WHY NOT A STATEMENT BASEMENT
Every bathroom needs a focal point. Maybe tiled pathways or pebbles are a bit too much for your minimalist taste. An easy way to make a statement in a neutral space is with coloured basins. Pick a colour to complement your chosen tapware and tiles. We love square basins in black, grey, dark blue and metallic, and rounded basins in turquoise, pink, mango and green. Coloured basins work best as the focal point, so if you would rather have a bright tile or dark grout instead, opt for a more neutral shade basin instead.
LUXURIOUS LOOS
Designing your toilet mightn't be on the top of your to-do list, but it's a simple way to make an impact in your bathroom. A toilet is usually just seen as a necessity in the washroom – not a design feature. By putting a bit more TLC into your guest toilet, you'll show visitors alike how seriously you take your bathroom game. Or keep the trendy toilet for the ensuite to enjoy all to yourself!
FEATURE WALLS
It can be tempting to paint a small room in clean whites to make it feel bigger, but dark walls or tiles in the toilet provide a dramatic feel. Or take the statement one step further with some outrageous wallpaper print or artwork. The toilet room can be an excuse to break the cohesive style in the rest of your house. Pull out that printed wallpaper you're secretly drawn to and get busy!
BLACK TOILET
Are you drawn to darker stylings? The overwhelming colour choice for most toilets is white or biscuit, but black has been a part of designer toilet ranges for decades. It's certainly not for the faint-hearted! With a crisp white or grey backdrop, a black toilet can be your signature statement. When pulled off, it can really look sensational. Avoid the temptation to match black finishes and tapware to the toilet as it can look too matchy-matchy.
QUIRKY KITCHEN DESIGN IDEAS
While we understand the desire for a minimalist design in the kitchen, sleek finishes and modern stylings, a kitchen with unusual features can be just as functional.
After all, the kitchen is the heart of the home, and if your style reflects more rustic farmhouse or traditional and timeless, let your kitchen show this side! We are certainly not a fan of cookie-cutter kitchen designs. We think by adopting some of these quirky designs, your kitchen will have more of a beating heart than a faint pulse.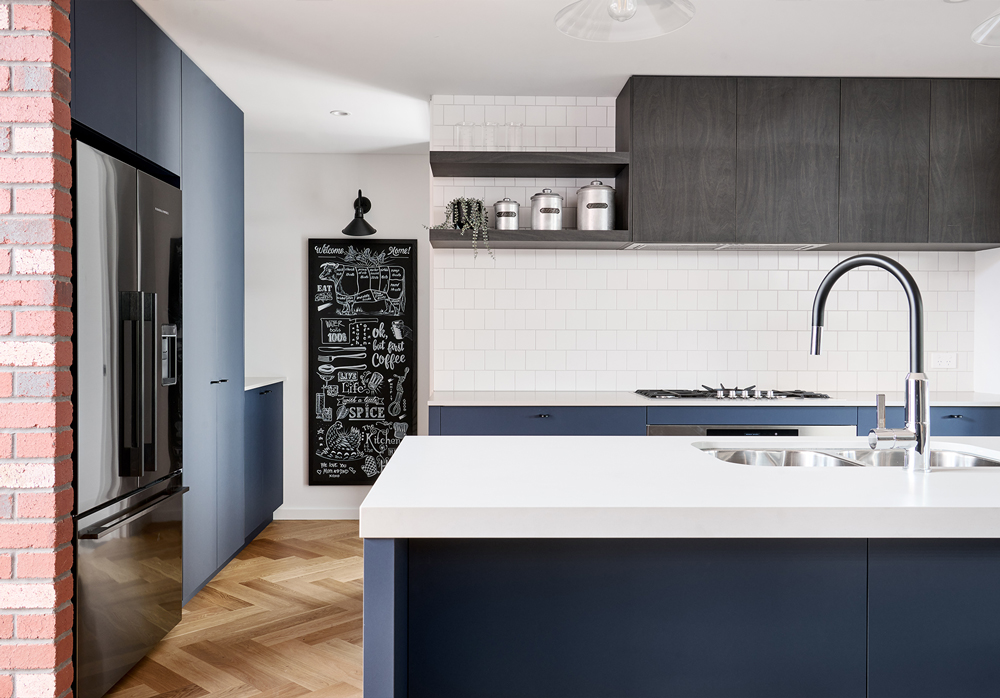 BRING IN THE VINTAGE
You might think your vintage furniture is reserved for living spaces and shouldn't be used in a modern kitchen. We beg to differ! Whilst new kitchen cabinets are modern and sleek if your style is more original, reclaimed timber finishes will bring the warmth and character you are craving.
We've seen large vintage pieces refurbished into kitchen islands which double as storage. Timber cupboard doors cut down and sanded can function just as well as kitchen cupboard doors. By utilising a bunch of different materials, you are creating a fresh and unique space.
SUPERSIZE IT
Big family? If you have the floor space, why not have a big kitchen to match? The most common complaint in the kitchen is a lack of bench space, so let's supersize it. Create an oversized kitchen with extended marble bench space and kitchen islands with large, oversized legs to match. Even double up your kitchen island, reserving one for serving and the other for preparing. Complete the look with an extra-large basin, oversized low hanging pendants and exposed beams for the warehouse look.
STATEMENT SPLASHBACKS
We think tiles are an easy way to add style to your bathroom and kitchen space. You don't want to go overboard, but if you opted for a more paired back colour scheme in the bathroom, why not let your kitchen do the talking? Statement tile flooring and splashbacks add that pop you are after. One look we love is a black and white checkerboard floor paired with a retro refrigerator and crisp cabinetry and walls. The ultimate retro chic!
MIXOLOGY / BREAKFAST NOOK
Whilst a breakfast nook makes sense, a mixology station is way more fun. Why not combine them? Rather than reserve the bar outside, this way, you can utilise it all year round. A passthrough connection creates the separation of space and serving component for entertaining.
Opt for elegant high stools rather than cushioned bench seating so it can go from breakfast to happy hour seamlessly. Store all your bar items in an upcycled free-standing cabinet complete with interior wallpaper and vintage tumblers. Who knows if the fruit on display will be used on top of your cereal or in your negroni…
Are you feeling inspired yet? You can keep up to date with the latest and greatest in interior design on our blog. Or are you getting the itch to start from scratch and build your next home? If you choose Residential Attitudes, you know your home design will be like no other. Get in touch with us, and let us show you our portfolio of groundbreaking designs.