Add a bit of razzle basil to your home with a vertical herb garden.
There's something humble and satisfying about tearing off your very own basil leaf from that herb baby (that you've managed to keep alive for a hot minute) and sprinkling it over a spag-bog or handcrafted woodfired pizza.
If you consider yourself to be not-bad in the kitchen or have been floating around aspirations of growing herbs, we're the angel with attitude on your shoulder, saying do it. It's thyme for you to start living with attitude and doing what you've always wanted to do. If that means adding a vertical herb garden to that swanky home of yours, then let's make it happen.
Sure, it can be scary having more responsibility, but there are loads of benefits to having your very own herb-buffet at your pinchy fingertips.
Benefits:
They taste better fresh (Duh).
Save money (More cash to add attitude to your home).
Reduce plastic waste (Bye-bye dried herb packets).
Less trips to the supermarket (Ever followed an online recipe that makes you rush out to the shops for a peculiar herb? We certainly have).
It looks aesthetic (Probably the #1 reason, right? You can get those creative juices flowing and add some razzle basil to the home).
Where and how you present your vertical herb garden really has no limits.
Homing

your vertical herb garden.
Indoors, outdoors or maybe a hybrid.
Herbs like some sun, just like us. So, if you're intending on an indoor placement, anywhere inside where your bold, bright and raked windows shine is the perfect place. The most common area an indoor herb garden can be spotted is in the kitchen, which makes sense – right? It's practical when cooking up a storm. But we reckon there's something brave about spreading greenery from vertical herb gardens in unusual home spaces such as the dining room, connecting hallways, entrances or even the bathroom. As long as there's windows (if you've built with us, then you're in safe-hands) any space will do.
Note: Healthy herb gardens need at least 6 hours of sunlight per day.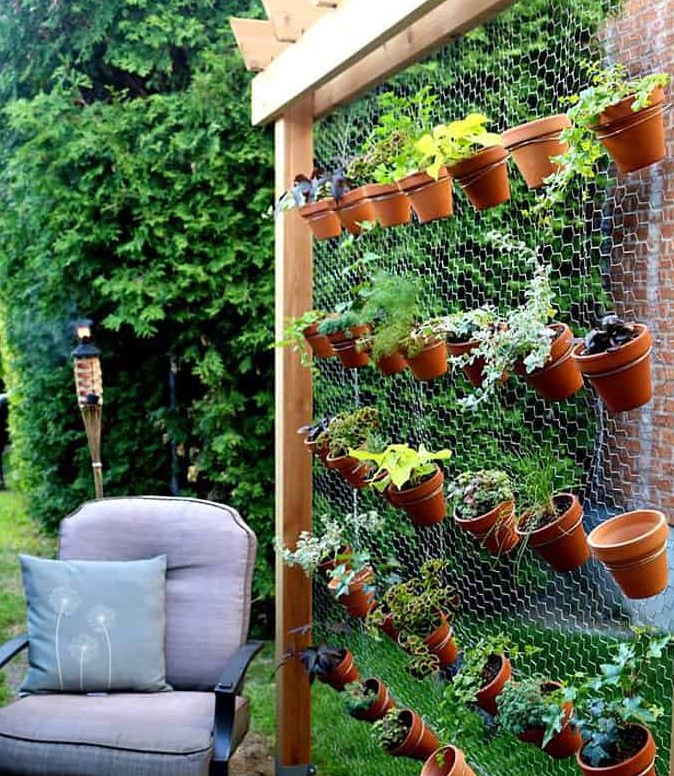 Once you've decided on the location. You can hang them, mount them, build a wall, pot them, upcycle furniture or use recycled materials to grow them. Like we said, your creative limits have no bounds.
Note: Make sure there's drainage in whatever you choose to plant them in. In case you were wondering, they will need to be watered (sorry to disappoint, they're a plant after all). The soil likes to be kept moist, but not waterlogged. AKA, don't drown your herb babies. It's time to invest in a quirky, small-ish watering can, because that's when you'll feel like a real green thumb.
But for now, let's get to the fun part and start thinking about how you'll dress your vertical herb garden. We've got some strong inspo below that highlights a blend of creativity with sustainability.
If you're short on space and just want to dip your toes in growing fresh herbs.
Herb class is in-session with this vertical chalkboard garden from Williams Sonoma. Great to hang in any crevasse that sees some light. Homegrown rustic chic, where you can really add that personal touch by handwriting each herb.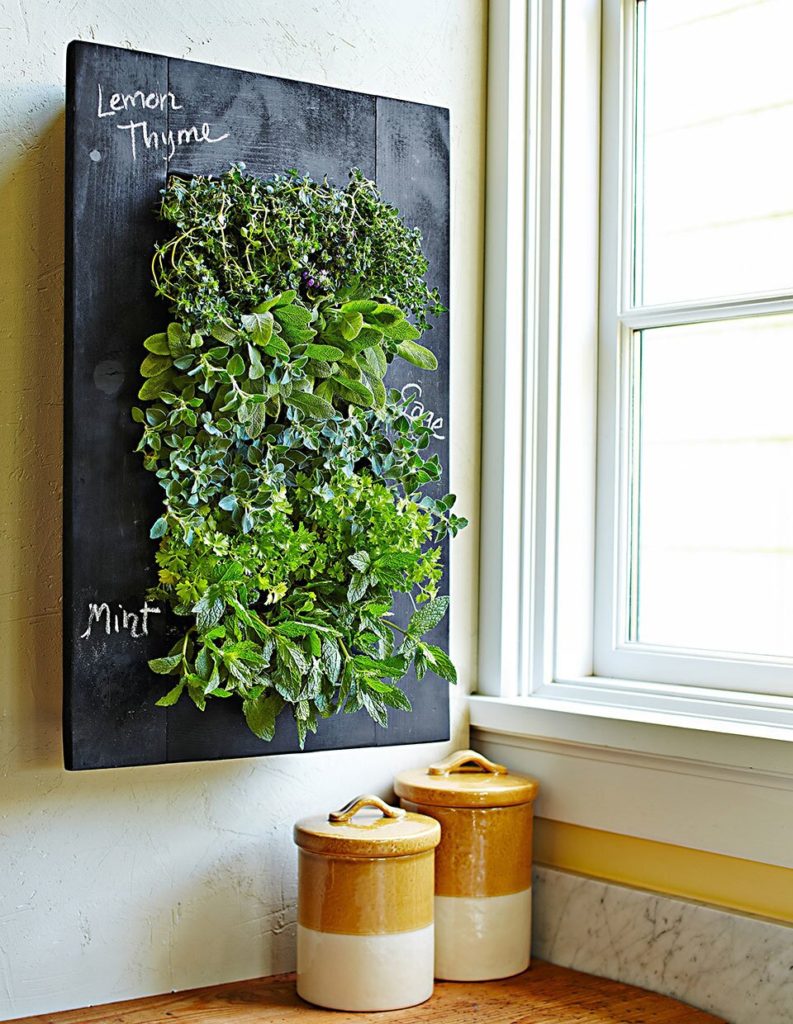 How's it hanging? Pretty good if you ask The Bird and Her Song. This indoor hanging herb garden might be the cutest and easiest to follow DIY. Simple materials that you can customise so the style suits you (and your kitchen).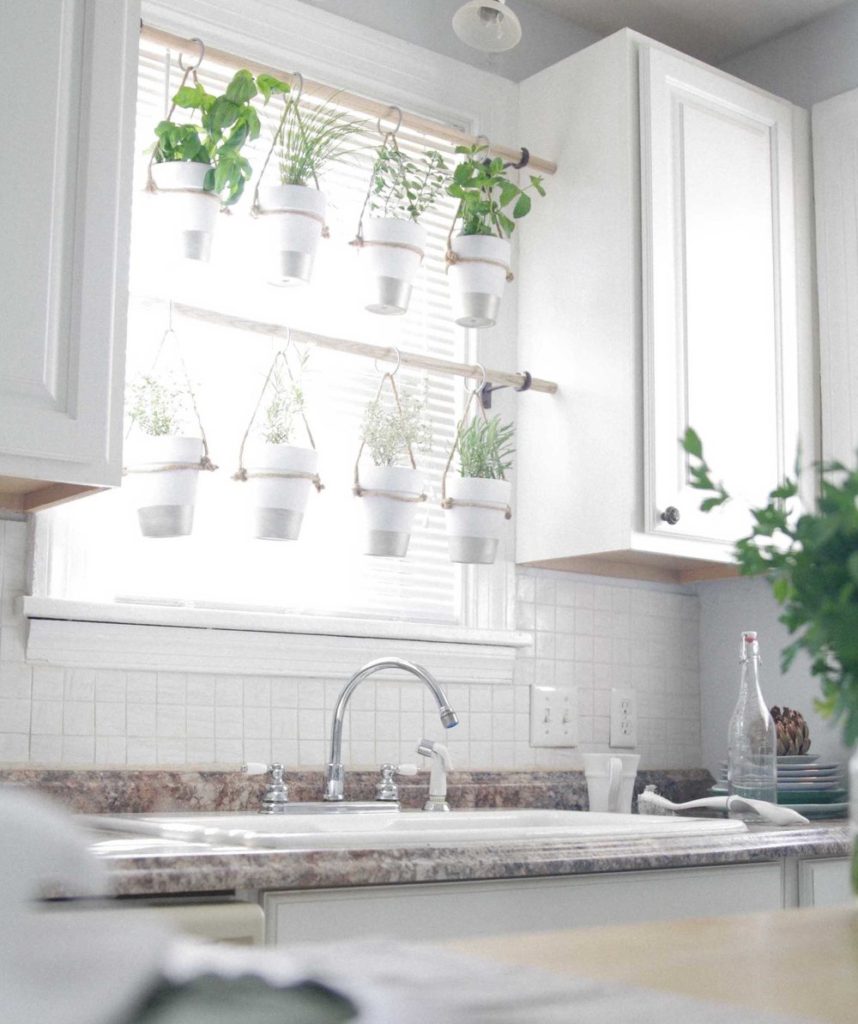 Remember when you couldn't go to a bar or café without being served your drink in a Mason Jar? Same. Well, we think the return of the jar is back, but for a better purpose. We present Home Remedies DIY Mason Jar herb garden. Their guide on how to fix adorable herb filled jars to a mobile plank is genius.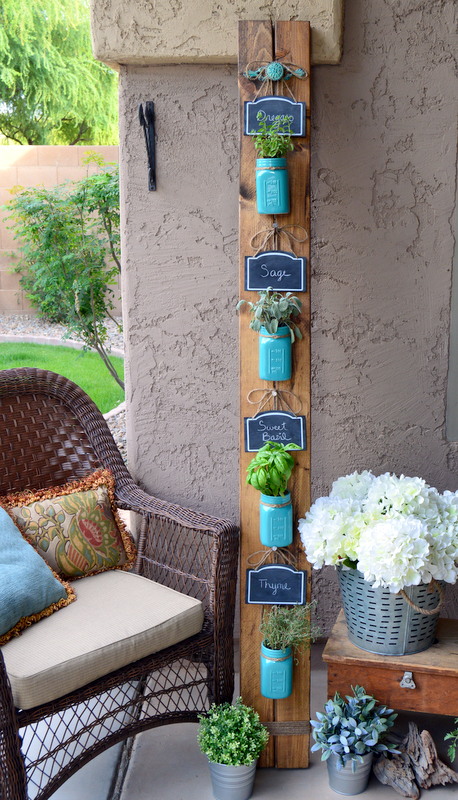 If you're more ambitious to upcycle and create something truly unique.
You won't look at a soft-drink bottle the same again. The Dirt has proven upcycling what is typically rubbish can create a head turning vertical wall garden. Okay, okay, you got us. These might not have herbs in them but there's no reason why you can't do the same, but with herbs instead (as long as you install them in a sunny spot).
Another wholesome example of upcycling, this time from GrizzlyBearModern, is filling unwanted furniture such as an old dresser with soil and plants. Imagine the breadth and variety of herbs that you could flourish out of some big old timber drawers. Any excuse to get a new dresser, right?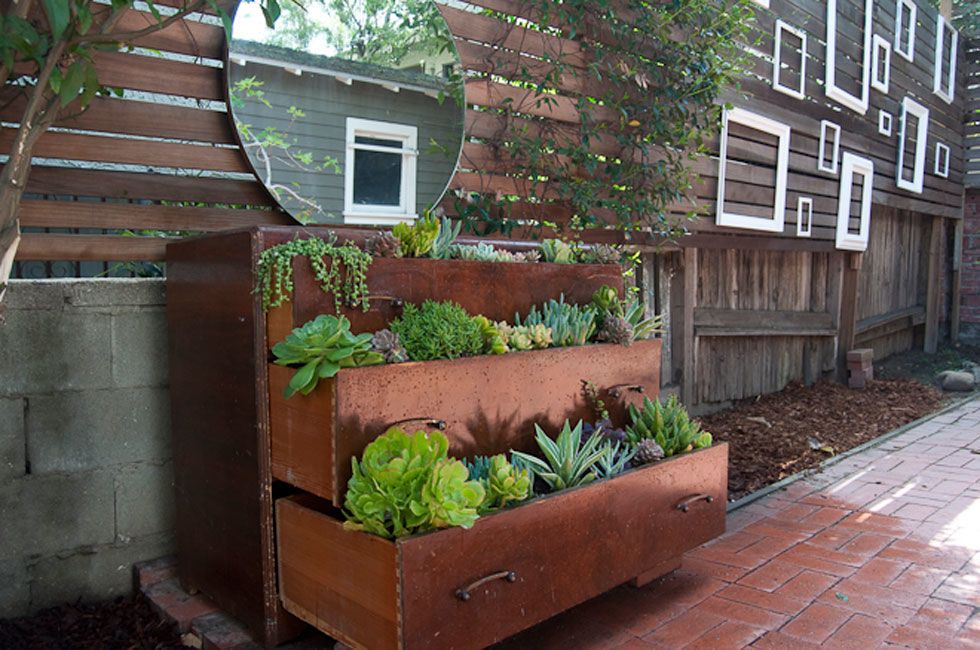 Empty tin cans have never looked so aesthetic, until now. Ciera Design created a bold blue feature vertical garden using recycled cans. On the fence about it? Well, we think the end result is can-tastic, as you can customise your colour choices, placement and layout that'll work with your wall, fence or structure.
Our must-grow picks of herbs.
Look, everyone's herb preferences differ. But we're not shy to admit that we like the classics. Some are an acquired taste and others are just darn-right not for us, but we aren't here to shove coriander down your throat.
Basil (Because it is so versatile).
Mint (Fresh tea, actually we mean cocktails).
Parsley (Mediterranean salads).
Oregano (Pizza and pasta need we say more?)
Thyme (We made a pun earlier, so it's only fitting).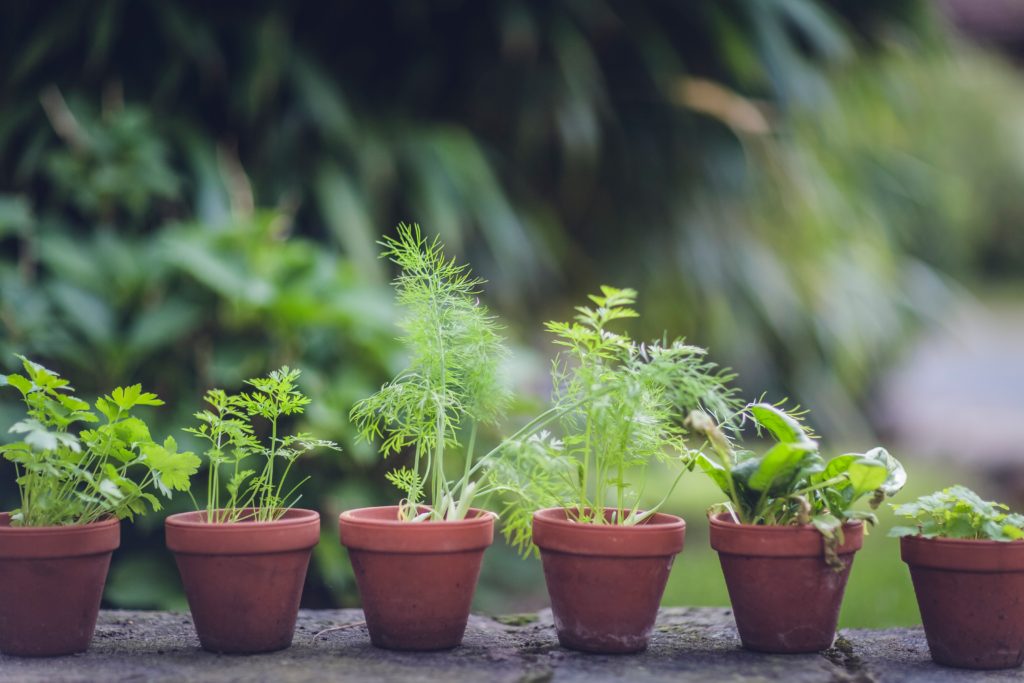 Let us remind you, herbs are infused in more than just carb-loaded Italian dishes. Herbs elevate dishes from savoury to sweet. They garnish, create fragrances, essential oils and natural remedies. You can even take your beverages to flavour-town. Cocktails we're specifically looking at you. Herbs are versatile, handy to have on-hand and uplifts home decor with greenery.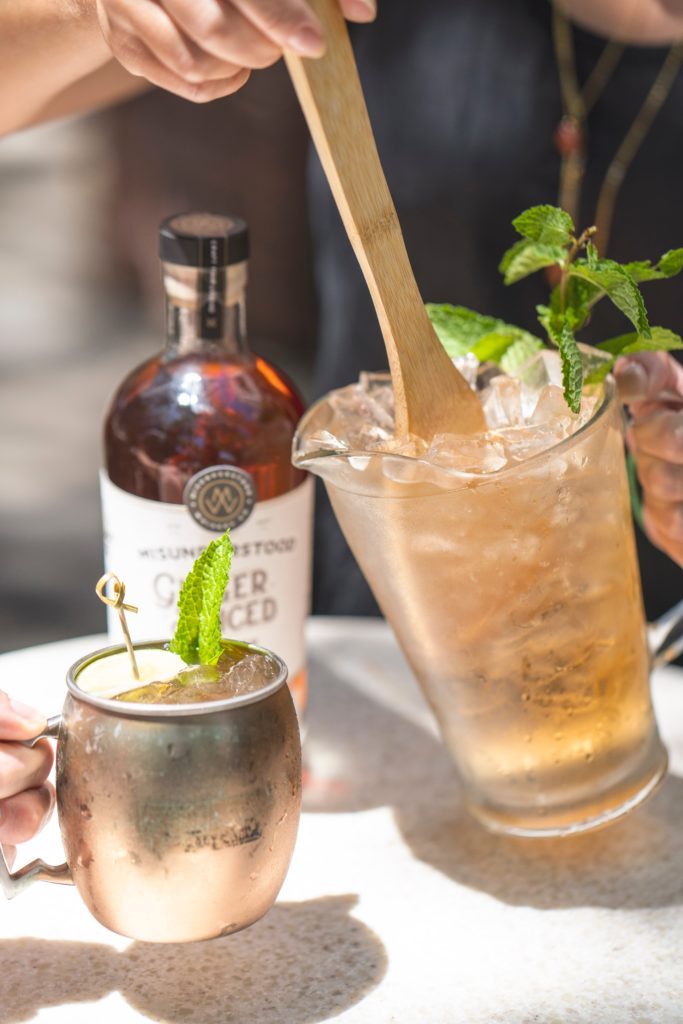 When you're hosting your next dinner party, gathering or get-together, don't pre-prep your herb garnishes. We encourage you, no we demand – that you showcase your vertical herb garden. If your guests haven't noticed the feature statement yet, now's your time to shine. Oh, so you need some mint or basil? Let us escort you to our garden of herbs. It will be the ultimate conversation starter and make you look responsibly self-sustainable (which you are).
Now stop reading and get growing.