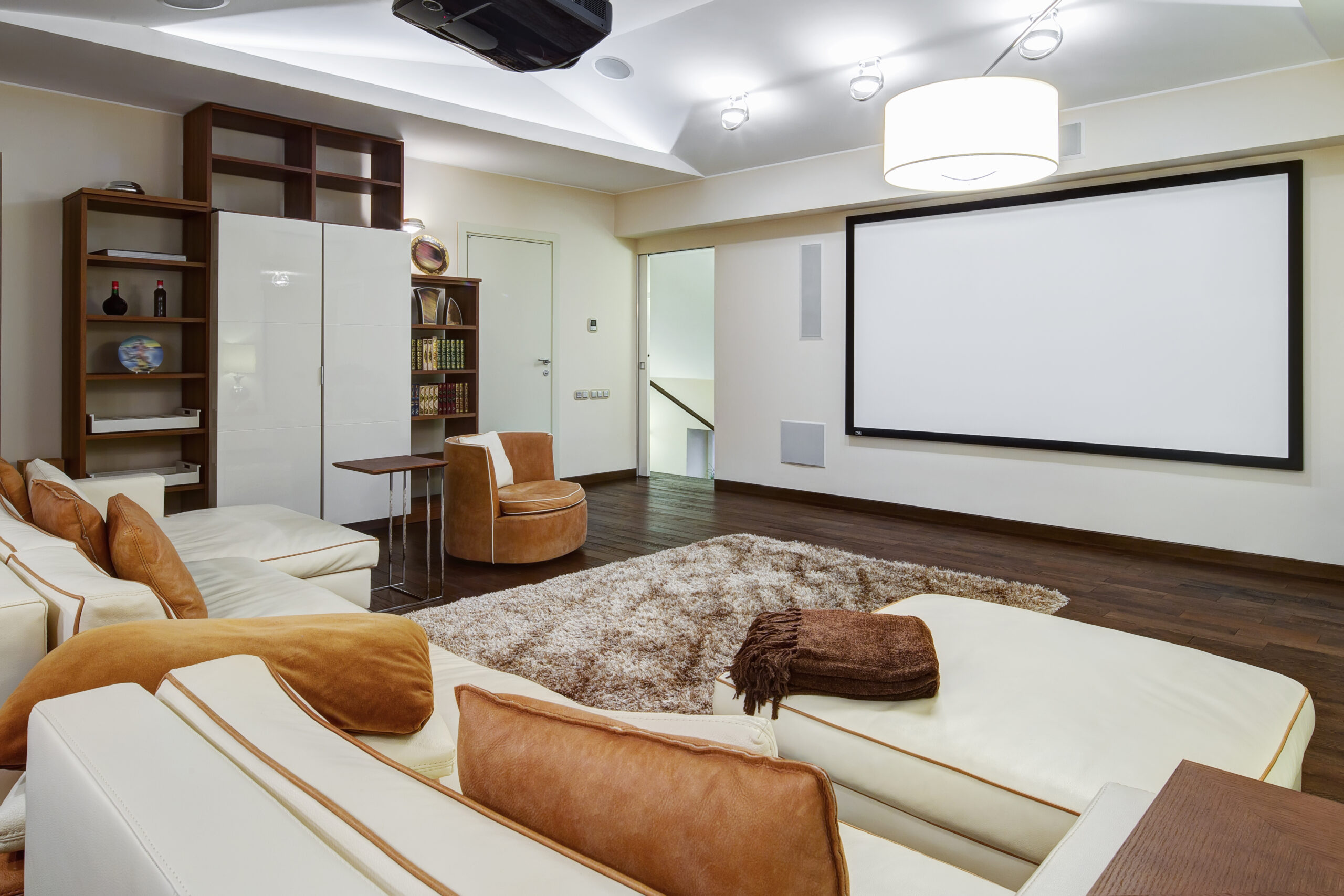 Design Your Home Theatre Like a Pro
A home theatre is the ultimate in lifestyle luxury, and designing your very own can be a very enjoyable and creative process. And the best part is that you'll have a finished product that will bring you joy for years to come. However, there are a few key elements that make up a quality home theatre, and making the right choices upfront will amplify your cinematic experience down the road.
CHOOSE YOUR LOCATION WISELY
Once you're all set to bring the magic of cinema to you home, its time to consider the location. A common mistake is situating the home theatre on the upper levels of a two-storey home. Trust us, you don't want to invite the noise pollution from the street to crash your movie party. Instead, consider the ground floor or even the basement, these areas offer better opportunities for soundproofing, especially if you're retrofitting your theatre into an existing home.
Many of our rear-strata home designs have space available to install a home theatre during construction which can make it easier to ensure you have the right level of soundproofing. Just imagine having a purpose-built cinema seamlessly integrated into your dream home. If you're thinking of incorporating a theatre room into your home design, reach out to us to see how our unique single-storey and two-storey designs can be adapted to provide you with all the luxury you have ever dreamed of.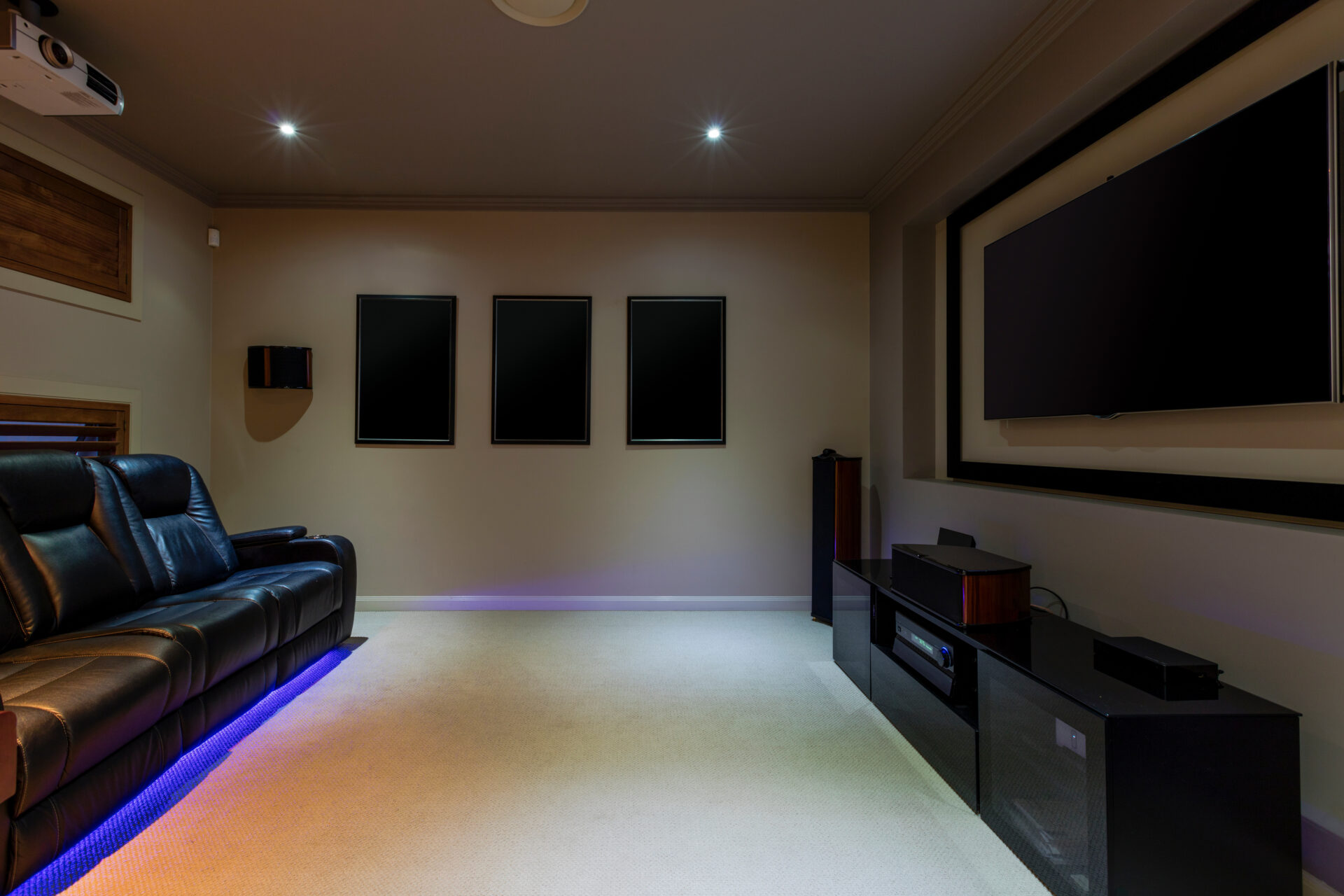 THE PERFECT VISUAL EXPERIENCE
Let's talk visuals – the heart and soul of your home theatre. When it comes to creating the ultimate cinematic experience, choosing the right screen is key. One of the first decisions you need to make is whether you will be using a large television or a projector and screen combination. Let's explore the benefits of both.
First up, we have the 4K ultra-high-definition TVs. These offer mind-blowing picture quality that will transport you straight into the heart of the action. Plus, they come in built-in apps like Netflix and Amazon Prime, giving you instant access to a world of streaming services. And the cherry on top is that you can connect your TV to cable services like Foxtel, so you have all your entertainment choices in one convenient place.
But if you are craving the true, authentic cinema feel – a projector and screen is the way to go. With the latest technological advancements, say goodbye to tangled wires and hello to seamless control from your smartphone or tablet. Its like having your very own Hoyts theatre right at home.
Ultimately, the choice comes down to your budget and the kind of viewing experience you want to create. Whether you go for the jaw-dropping clarity of a 4K TV or the immersive magic of a projector, rest assured both options will take your home theatre to the next level.
YOUR CHOICE IN SOUND
Once you have your visual component sorted, it is time to consider the audio part of your theatre creation. The sound quality of your room can be greatly affected by the room design itself. In two-storey homes, using a well-sealed room on the ground floor is ideal as it helps contain noise and create an ambience for a better cinema experience. These days, something as simple as a soundbar could be a convenient and cost-effective sound solution for a home theatre, but if you are looking to create a proper cinema experience, you can't beat surround sound. Options for surround sound speakers range from affordable to high-end, giving you the freedom to choose something that fits within your budget.
STYLING YOUR HOME THEATRE
Whether you're building a Residential Attitudes single-storey, two-storey, or rear-strata home design, the right décor can truly elevate your viewing experience. Here's how to nail the interior design game:
Let's talk colours. Unlike other rooms in your home, a theatre room thrives in darker tones. It's all about creating the perfect ambience and making the screen the star of the show. So, think rich deep hues that enhance the immersive atmosphere.
Comfort is key. Your seating choices are crucial for creating a relaxing and enjoying home cinema experience. Consider the number of people you want to accommodate, the size of your theatre room, and your furniture budget. For that Gold Class experience, you can't go past individual recliners. But if you're looking for something more affordable, corner couches are a fantastic alternative and provide plenty of space for a larger crowd.
Accessories are the final piece of the puzzle for bringing your cinema vision to life. If you're a fan of staying on theme, a collection of movie posters or framed images of classic actors will add a touch of Hollywood glam to your interior décor. And since the room is designed for relaxation, don't forget about handy accessories that enhance the overall experience. Think coffee tables, remote holders, dimming lights, and drink holders – these will amp up the luxury factor and are typically affordable and easy to find
INCORPORATING ROOMS THAT REFLECT YOUR ATTITUDE INTO YOUR HOME DESIGN
If you've decided to embark on the exciting journey of building your own home, you now have the chance to unleash your creativity and incorporate rooms that truly reflect your attitude. From saunas to cinema rooms, you can take your pick of the in-home features that will work best for your lifestyle.
Installing a cinema into your home is only the beginning. Whether you are planning on building a single-storey or two-storey home with Residential Attitudes, our building and design experts will help you customise floor-plans until you arrive at the perfect home for you. Contact us today to chat about the kind of home that is perfectly suited to you.