200 sqm in Mount Hawthorn
Paula and Stuart hadn't really planned to build. Let alone build on 200sqm. They'd not long overhauled a large 4×2 with study on the coast and were finally enjoying time for wine and sunsets.
A 200sqm block in Mount Hawthorn. That's what happened.
With kids off doing their own thing and a quiet hankering to move closer to the city, a chance visit to the lively suburb got them thinking.
Needless to say a Google search or two later and the 50-somethings suddenly found themselves talking to us about building on a 200sqm subdivided block opposite a popular park, just minutes from cafes, bars, restaurants and boutique shops.
That was about 18 months ago and now the one-off home we designed to suit their compact block is nearly ready.
Technically it's a downsizer because it is smaller than their previous home, but it feels big and it's got everything they need, including a fabulous master suite, a guest bedroom, a home office, a huge kitchen, two living areas, a balcony and two courtyard gardens.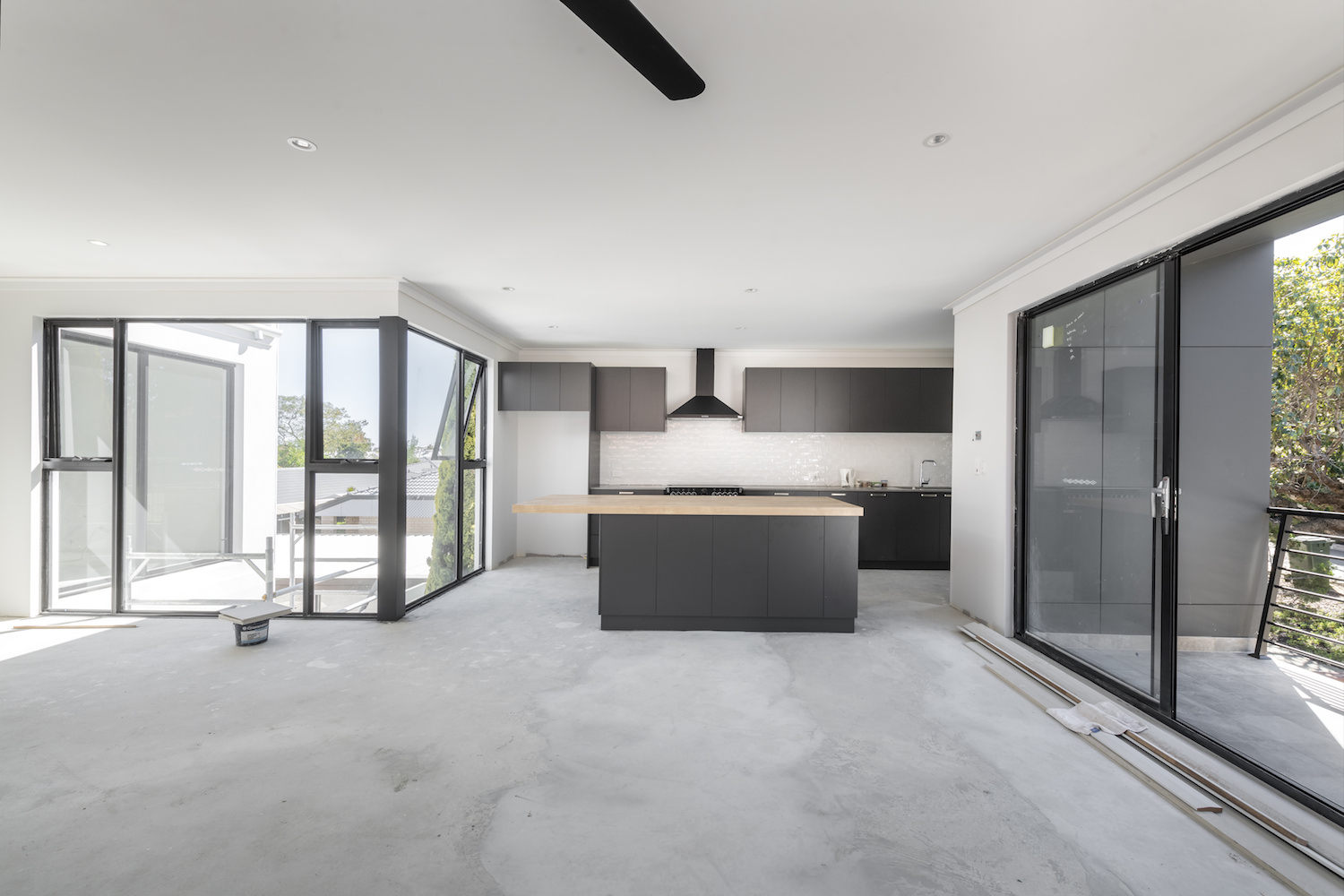 And did we mention all this is on just 200sqm?
Designed by senior designer Michal Kurtis, it's an 'upside down' design to take in the view of the park and it's a C-shape to make the most of a northern orientation. Picture double-height walls of glass with beautiful natural light flooding in.
It's got funky angles. It's got exposed brick. It's got an almost-flat roof. It's got a floating concrete staircase.
With handover imminent, we caught up with Paula and Stuart for a quick Q&A session to find out more:
WHY DID YOU WANT TO BUILD A NEW HOME?
For our budget, it was the best way for us to get into Mount Hawthorn without having to renovate an old property. And it meant we could build just what we needed.
We already knew and trusted the team so they were the obvious choice. Besides, we knew they could come up with something amazing on 200sqm.
WHAT WAS THE BEST/MOST EXCITING PART?
In many ways it was seeing Michal's initial sketch. He'd come to see the block with us and we'd taken him for coffee afterwards. He could immediately see what was possible and sketched out a concept on the back of a napkin. It was perfect!
WHAT HAS BEEN THE MOST CHALLENGING ASPECT?
All of it! None of it! You are taking on a big project when you decide to build, so there's a lot of detail. And you need to be patient, which is hard when you're itching to move in! Staying on budget isn't easy either when there are so many great ideas out there, but we were pretty focused and Kestryn, our project manager, quickly realised what our priorities were.
WHAT MAKES YOUR HOME UNIQUE?
Nobody has a home like ours. It is a one-off design to suit the orientation and the block. We wanted to be brave and we're so glad we were. There were already some plans approved when we bought the block but they really didn't do the site justice. Michal's vision was far, far better. Not only does the home look different, but people are already saying it's so much bigger than they thought it would be given the size of the block.