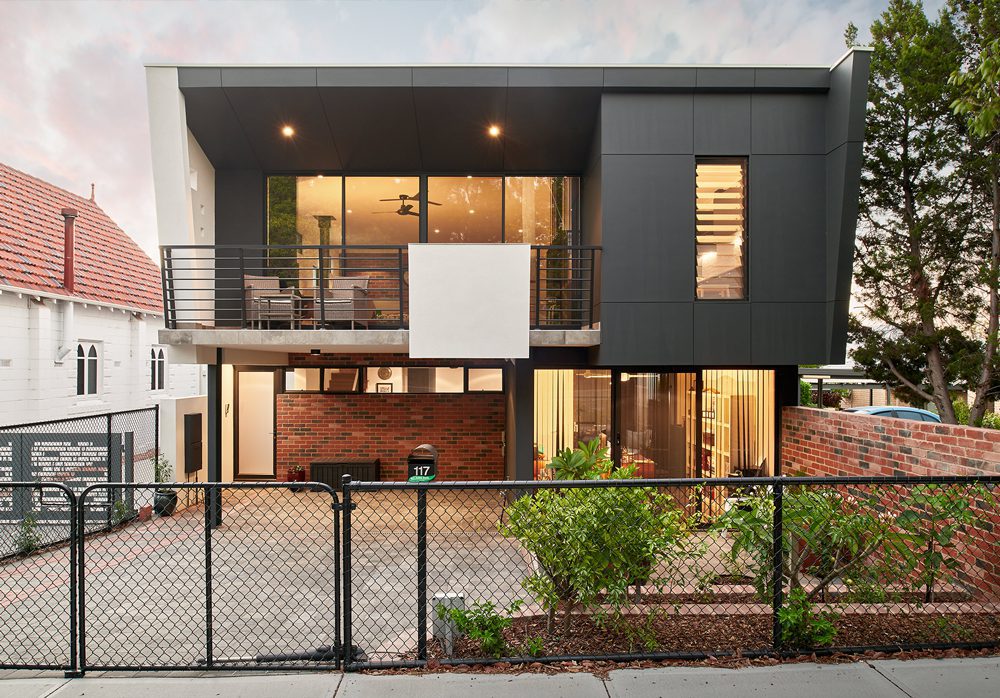 The Beauty of Narrow Lot Living
If you keep up to date in the latest home design and building trends, you will have seen the influx of narrow lot homes into our streetscape. The former Australian dream of a quarter-acre block with a sprawling backyard has become obsolete. Plus, it can be challenging to find a suitable sized property in a central location in the current market.
We believe you should not have to sacrifice locality or luxury to have a space big enough for you and your family. Whilst Perth is growing as a city (we are set to reach 2.5 million people by 2030!), the freedom to accommodate this expansion is becoming smaller. With this growth, narrow lot living is becoming an increasingly popular way to utilise minimal space and is often the more affordable option on the market.
At Residential Attitudes, we are determined to create unconventional homes by expressing creativity without compromise. We are all unique individuals with vastly different lifestyles, after all. Our homes should come in all shapes and sizes. We dare to be different, and this dedication to uniqueness is evident in our striking narrow lot designs for homes on lots as little as 7.5 meters wide. Not convinced on a narrower space? Let us break down why we love narrow lot living.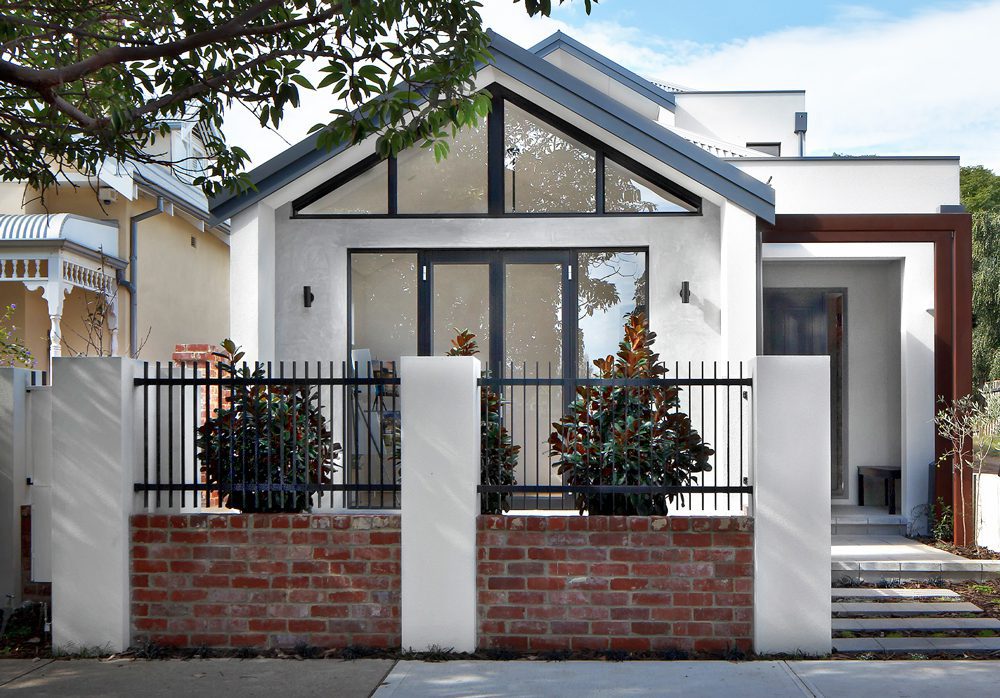 THE BEAUTY OF NARROW LOT LIVING
For starters, the smaller the house and landscape, the less caretaking for you. Not to mention narrow lot homes are more energy-efficient to heat or cool than a larger home, leaving a smaller carbon footprint. Our narrow lot homes at Residential Attitudes are designed to be solar passive and are appropriately positioned on the block to take full advantage of the natural energy from the sun, wind and shade.
As narrow lots homes in Perth are more budget-friendly, your funds can go towards the design of your home and adding those lavish touches. Also, did someone say a smaller mortgage? Yes please.
What might be unfamiliar territory for you initially can actually be very exciting. Designing and building on a narrow lot gives you a chance to put your creativity into fruition. You can always build up when you cannot build out, adding sweeping views to your narrow lot home. Narrow lot living also encourages you to design your interior vertically – think vertical gardens, artwork and decorative shelves to free up floor space. Drawing the gaze upward gives the illusion of a larger room, making it seem wider than it actually is. This is also achieved in our narrow lot homes by open plan living, high ceilings and minimal window coverings. Rugs can separate areas, adding more depth along with mirrors accentuating the space to feel larger.
The beauty in narrow lot living is breaking down the barriers between indoor and outdoor spaces. We do not just design the home as narrow lot builders, we design the whole space. Every nook and cranny on your narrow lot is a potential living space.
Rather than having a huge home where rooms or parts of the house remain unused, narrow lot living simplifies your life. Don't waste the space you have. Outdoor living spaces that are perfect for entertaining will have you feeling like you have more than enough space. Huge glass windows capture the natural light making the flow between spaces effortless. Sold yet?
Take one of our favourite narrow designs, The Urbanite for example. When our Senior Designer Michal Kurtis was asked to take a look at a 200sqm pocket of land in Mount Hawthorn, he could barely contain his excitement. The newly subdivided patch may have been compact, but it was perfectly proportioned, well orientated and in a fantastic location. Fast forward to today, and Michal's vision for a funky upside-down house has become a reality – and his downsizing clients couldn't be happier.
Dubbed The Urbanite, their striking new home proves why an urban-infill block is an exciting opportunity. Narrow lot living is about embracing the space you have and shaping it to suit your needs. Gone are the days of needing a wide street front to make your mark. Narrow lots provide the chance to let your creativity shine – crafting a distinct home that suits all of your needs with a striking modern design that commands attention. Here's the inside track on the home's design story, illustrating 7 design tips for a small block.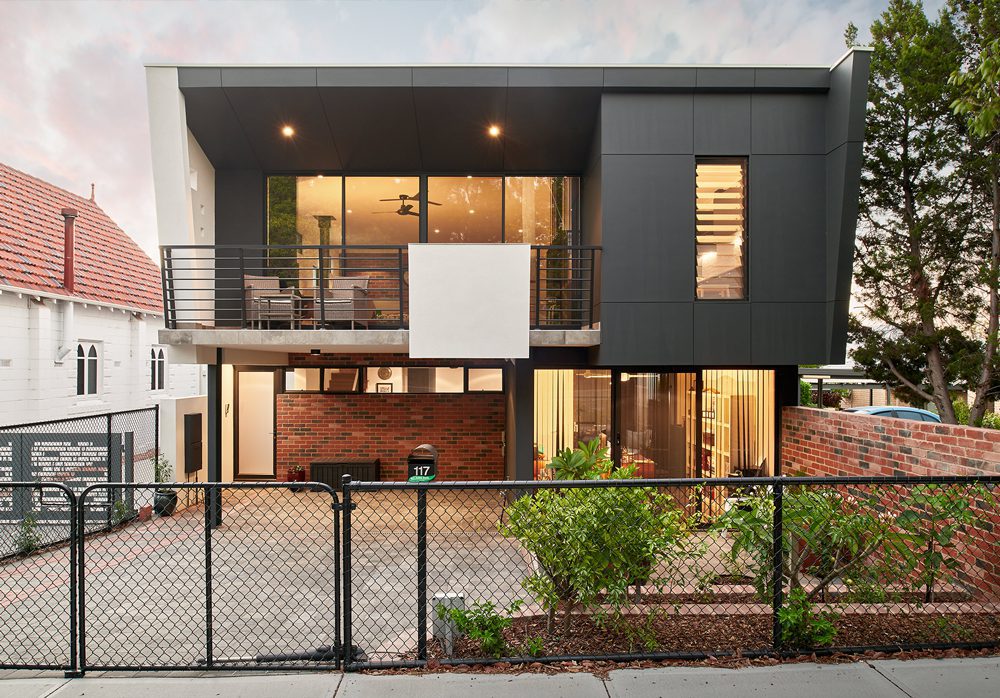 DESIGN TIPS FOR NARROW LOT HOMES
PLAY TO ITS STRENGTHS
Okay, so you may have secured what feels like a handkerchief-sized slice of land, but that doesn't mean you can't play to its strengths. In the case of The Urbanite, not only was the block a stone's throw from busy cafes, shops and restaurants, but it was also opposite one of the area's most popular parks. The buzz of the inner-city lifestyle with a leafy-green open aspect was a win-win. Capturing the view out to the treetops naturally became a design priority, along with harnessing lots of lovely northern light and winter sunshine.
HAVE A PURPOSEFUL LIST
Although they were downsizing from a big single-storey by the coast, the owners were confident they could get everything they needed on their prized urban-infill block. The key was to stay focused. With this in mind, they drew up a simple wish list: A luxurious master bedroom and ensuite, a large kitchen and open-plan living area for both entertaining and the everyday, an inviting guest bedroom, a generous home office, a second sitting room, and a comfortable outdoor entertaining space. It wasn't about chopping the available space into as many rooms as possible.
The mission was to design rooms that felt light, airy and open, defying the relatively compact dimensions of the 10m-wide block. Good storage, maximising the park views and capturing winter sun rounded out the list.
STAY FLEXIBLE
It's no good trying to cram a quart into a pint pot. Things just get messy. On a compact block, you really can't afford to set space aside for rooms that get used only once in a blue moon. (Who needs the extra cleaning anyway?) Aim instead for spaces that are adaptable.
The Urbanite is a three-bedroom design, but one of the bedrooms is used for an at-home business. The second bathroom is semi-ensuite, so it serves as the powder room while still feeling a luxurious addition to the guest room. The space that links all the downstairs rooms is not only the entrance lobby, but it's also been cleverly designed as a comfy second sitting room with views to the courtyard. The courtyard also multi-tasks. It is a private outdoor sitting area as well as a space to hang up the hammock or roll out the yoga mat. And as for the upstairs living and dining space? Simply push the furniture to the side, open up the doors to the balcony, and it's party central.
TURN THINGS ON THEIR HEAD
If you're swapping the burbs for the buzz of the inner-city, there's every chance you're ready to think about doing things a little differently. In the case of The Urbanite, this meant turning the design upside down. Going topsy-turvy had two key benefits. Firstly it made the most of the park view and secondly, it meant the whole of the upper floor could be dedicated to a spacious kitchen and living area, and a luxurious master suite.
LET THERE BE LIGHT
When you're building on a compact block, it's especially important to be able to let in lots of natural light. Lots and lots of natural light. Michal designed The Urbanite around a courtyard on one side, essentially creating three walls of floor-to-ceiling glass over two storeys. A huge bank of sliding doors leads out to the balcony, and there are sliding doors to the courtyard from the home office, guest bedroom and downstairs sitting room. A series of slim and square windows has the added benefit of creating a dramatic effect in key areas of the house
KEEP IT OPEN
Not only does it feel striking and sculptural, but the revealed soffit concrete staircase tricks the eye into believing a greater sense of space because the floor area below is visible. The Urbanite also features high ceilings and taller-than-average doors to really kick the sense of volume up a notch or two. Take a look at some of our other modern luxury home designs.
DON'T FORGET OUTDOOR LIVING
If you look carefully, you might notice the balustrade to the balcony slopes at a jaunty angle. It's a clever design feature that makes this main outdoor space feel extra spacious. The north-facing courtyard captures that lovely winter sun, and the front garden is a good size for a kitchen garden and some weekend pottering. Speaking of outdoor living, how do you utilise your garden space in a narrow lot home?
GARDEN IDEAS FOR NARROW LOTS
You may have a skinny lot, but that doesn't mean your outdoor space can't be full of heart! Here are some of our top tips to fatten up your garden.
BE AHEAD OF THE CURVE
When designing a garden on a narrow lot, go heavy with leading lines. Curving your planting beds and paths can break up a narrow feel and trick the brain into thinking the space is wider. And it's also on-trend! One trend we've loved in interior design and architecture is incorporating curves from furniture to archways to windows to rugs and beyond. Curves are also great for small spaces as it continues the sense of movement.
DIVIDE IT UP
To make the most of your outdoor space, we recommend dividing the space up for different uses. In gardens around a narrow home, segmented areas give each space a purpose. For example, your garden could be divided into the courtyard to impress, a dining and entertaining area and then a more casual, likely grassed space for play or events. Narrow spots along the length of your lot are perfect for an edible garden or a secluded breakfast spot!
DON'T CHOOSE A LEVEL PLAYING FIELD
Just like narrow lot home design reaches for the sky, your garden design can do the same thing!
Tiered garden beds and elevated dining areas are a fabulous way to spruce up a narrow garden and keep the gaze higher. To bring even more drama, grow yourself a living wall! If you would rather trade in space for a swimming pool instead of a garden bed, take your plants vertical! A vertical garden is the most innovative way to bring the essential greenery your narrow lot garden needs.
WHAT ARE COMMON SIZES FOR NARROW LOT HOME DESIGNS?
What makes a home a "narrow block house?" A narrow lot home is considered anything less than 50 feet (15.24 meters) wide. We have seen narrow lots in Perth as small as 7.5 meters wide! Size is no longer a limitation for greatness, thanks to more and more narrow house plans pushing the design boundaries.
WHAT TO LOOK FOR IN A NARROW LOT BUILDER
When looking for a narrow lot builder, you need to ensure creativity and innovation are at the forefront of the builder's designs. If the build is left to an inexperienced designer, the narrow home may end up with dark, pokey spaces. Residential Attitudes is well versed in the art of narrow lot living, we know how to unlock a space's full potential. No matter how small.
When discussing a narrow lot home with a potential builder, make sure they mention:
Incorporation and maximisation of natural light
Wall mounting where possible
Narrow lot or not, a builder should always encourage clear and frequent communication and have a reputation to match. At Residential Attitudes, we like to think our work speaks for itself. But we do have several HIA and MBA trophies to back us up!
Dare to be different, with a narrow lot living by Residential Attitudes. Our team is ready to design your project, working with you to create a unique attitude for your own home. Let us show you all the ideas we have for your narrow lot design!