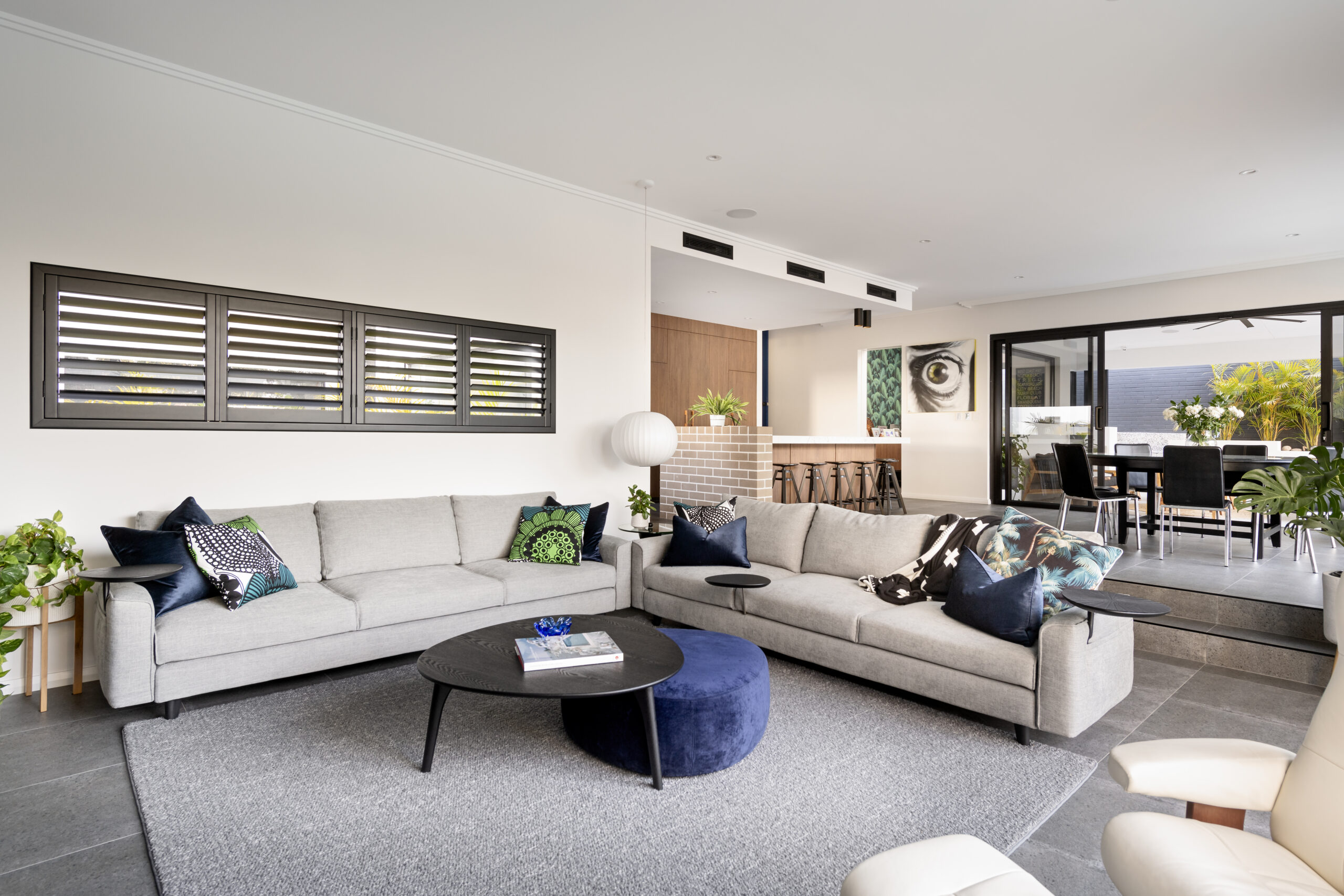 Sunken Living Spaces
There's a lot we love about sunken living spaces! Simply lowering a room in your home turns it into an awesome space for family and friends to socialise.
Thinking outside the box and creating cosy, intimate communal areas to hang is a top design feature on our list when it comes to building a home for the ultimate lifestyle.
You would of heard of the 'sunken lounge' before; it was a popular design style from the 1950s to 1970s across Europe and North America. The box-like open plan is a great architectural feature that incorporates built in seating that makes a home interesting and brings people together. Residential Attitudes believe this home feature can add a lot of value to a person's lifestyle. Some ways you can incorporate this feature into your home include;
SUNKEN KITCHEN
Having a sunken kitchen can maximise available space and create additional opportunities for indoor-outdoor flow. Designing your kitchen on a different level creates an eye-catching and distinct feature for your home.
SUNKEN LEVEL DWELLINGS
Split-level dwellings can make the most of the available space you have in your home. For example, sinking a kitchen can allow for a mezzanine level overhead to create that extra living space. The floor of the living area would sit level with the kitchen benchtops – very interesting concept!
SUNKEN LOUNGE
The space of the living room, while on a lower level than the kitchen and dining area, feels open and inviting. The open, living room 'pit' below floor level creates an inviting, ultra-comfortable place for the household to hang out.
CONVERSATION PITS
These were very popular throughout the 70's, covered in shag carpet and ripe for debauchery! What's impressive about a conversation pit is its great way of defining a separate space without using any walls. Imagine an open space with an inviting recessed circular seating area. The sunken spaces seems very intimate even if it is part of a large space overall.
OTHER SPACES
Sunken seating areas are not just for the inside, but can be great in outdoor living zones. A recessed patio area or fire pit crafts amazing architecture whilst providing a functional area to sit and relax outside. Putting a pool in your new home? Why not have a sunken lounge area lowered below the water line to give the space that dramatic flare without interrupting the view of the pool. This can be done for any outdoor area to create the ultimate welcoming escape that's ready for entertaining all year round. Make your backyard a work of art by sinking circular garden beds into the ground.
Our home designs featuring sunken spaces are really quite minimal. They allow for uninterrupted sight lines through the open planning living space by lowering the seating into the floor to create a sleek, uncluttered living space.
Check out our City Beach client home design which features a stylish sunken lounge.