Don't worry, just bee happy.
Welcome to the bee hotel. Checking in for the for-bee-able future?
It's no secret that bee populations in Australia are declining due to urbanisation. And if you didn't know that, well you do now. So, let's help a Queen B out by strengthening an entire ecosystem with a safehaven for bees.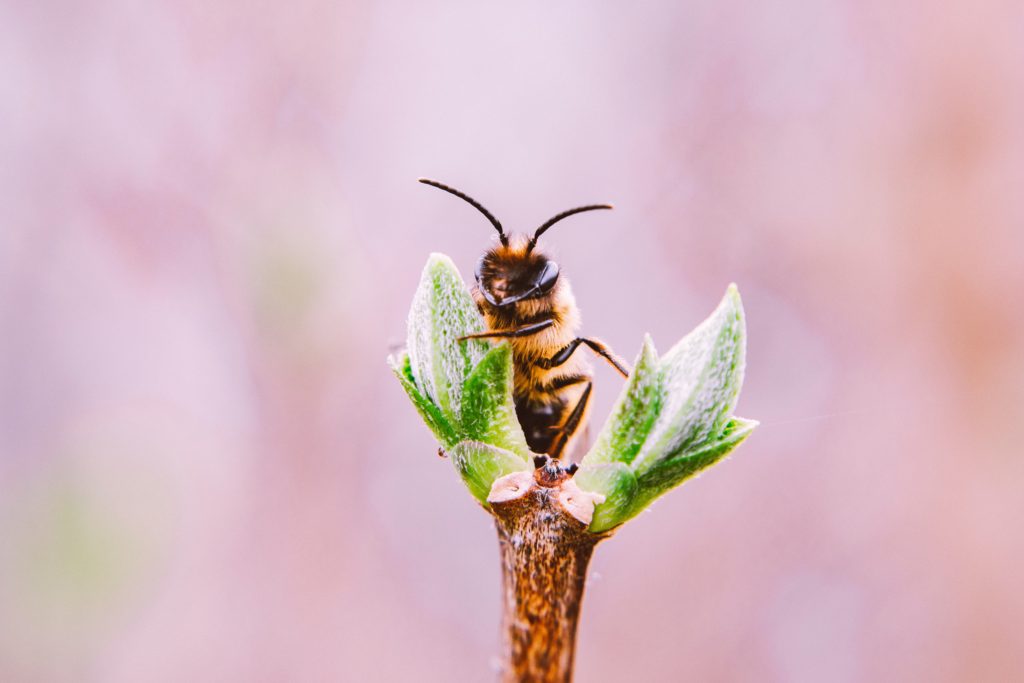 Remember, by creating a bee hotel, you're not just conserving our native bee species, but you're also creating a conversation starter in your own backyard.
---
My hotel brings all the bees to the yard
Your bee hotel will only attract solitary bees and semi-solitary bees. That being; Blue Banded Bees, Leafcutter Bees, Reed Bees, Great Carpenter Bees and Metallic Carpenter Bees. Wow, that's a mouthful and a variety of bees.
So how does it all work? Well you have to bee-gin with choosing a location in your backyard, followed by your main base materials and structures.
Anything that mimics naturalistic bushland timber will do. These species of bees aren't too fussy – because they've been buzzing around searching for refuge since their natural habitat has been destroyed. Pretty sad, huh?
A mixture of materials:
Fennel stems, pithy stems, grapevines
Bamboo hollows, canes – cut into lengths
Pithy steams or holes in timber
Untreated wooden logs
Clay packed pipes and blocks (for Blue Banded Bees)
Do not use chemically treated materials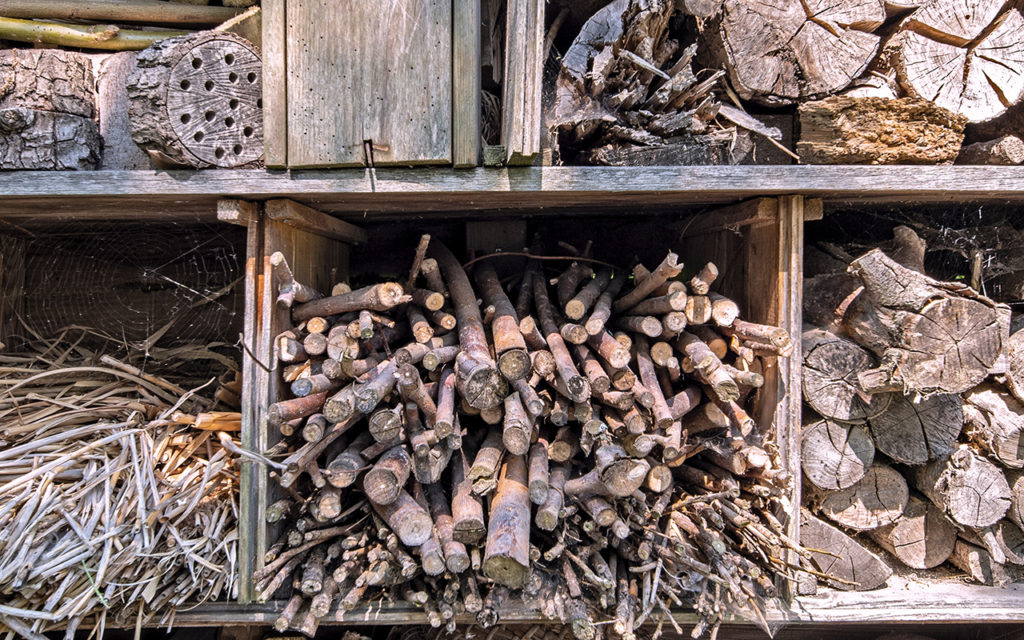 When preparing the materials to fill the hotel, you'll want to ensure there are small grooves, drilled holes and crevasses within the timber cuts, so the bees can take refuge in.
Remember, Bees like to burrow and nest within materials, so they feel safe and cosy. Not dissimilar to us being wrapped up in both an oodie and blanket on the couch, while we snack / binge watch the Netflix's top 10.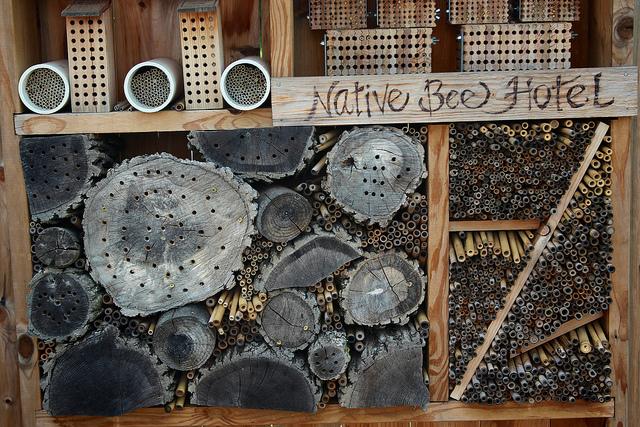 Time for some serious chats
The most important thing to know, is that you should plant floras and vegetation that will support and attract native species of bees.
Suggested Native plants:
Native is in the name. It's only fitting that native plants are bee's bread and butter.
Shrubs – Grasstrees, Native Daisies, Everlastings and Fan Flowers
Vines – Snake Vine and Native Wisteria.
Trees – Bottlebrushes, Red Gum and Banksias.
Exotic plants:
Just because they're native, doesn't mean bees don't like the finer luxuries in the garden. Got a veggie patch with Basil, Kale, Broccoli, Cabbage or Rocket? Perhaps you're growing Salvia, Roses, Daisies, Dandelions. This is literally a native bees Garden of Eden.
P.s bees only munch on the flower of the veggie plant. Don't worry, they won't be taking your Kale or macros.
Potted plants:
Pimelea Ferruginea, Pimela Rosea, Astartea Fascicularis, Kunzea Ambigua, Grevillea Crithmifolia, Dianella Revoluta, Conostylis Spp and Hakea Burrendong Beauty.
The placement of your hotel might be determined by what the landscaping situation is in your home. Do you have any native fauna or shrubs that are in-proximity to your veggie gardens?
---
You've got your home and they've got their home
Let's talk about the sweet, sticky and golden goo in the room. Honey. No, this isn't the primary goal of your bee hotel. That's what beehives are for. This initiative is more like your good deeds done for bees, for years to come. No biggie, you're just saving the ecosystem, one bee at a time.
Oh honey, we promise the bee puns won't stop throughout this blog. It stings, we know. But if you don't respect bees or puns, we have two words. Buzz. Off.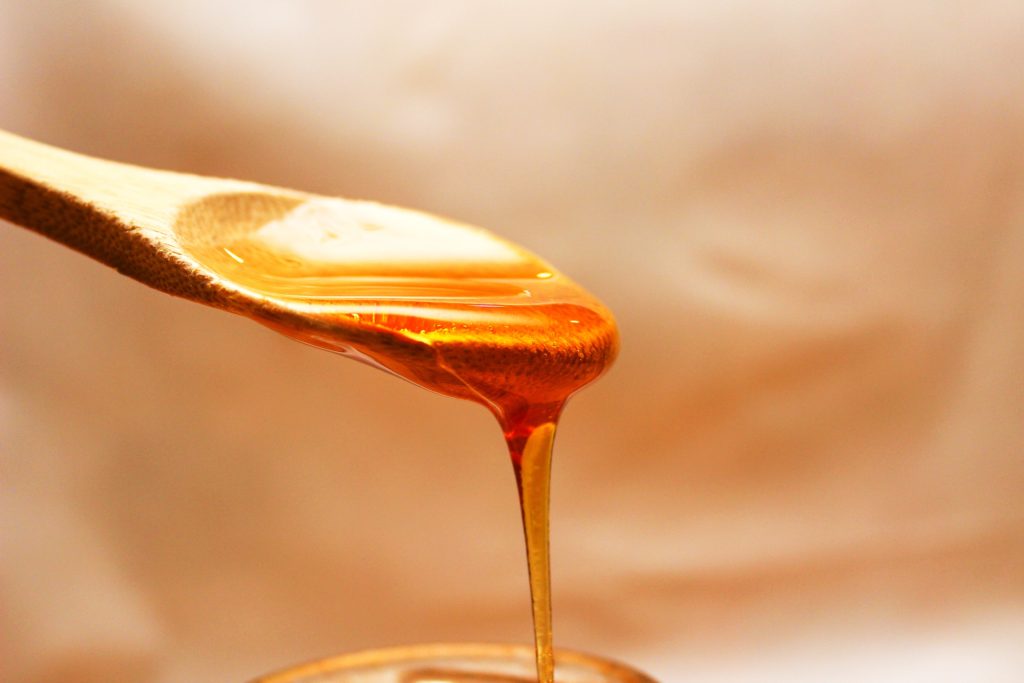 ---
Did you know, bees earn their keep?
The whole process of a bee hotel is a fun weekend project for the entire family. As your guests begin checking-in, you'll start to see how unique each species of bee actually is.
Overtime, kids and big-kids-at-heart will get an education of a bee's life. The more bees you attract, the merrier.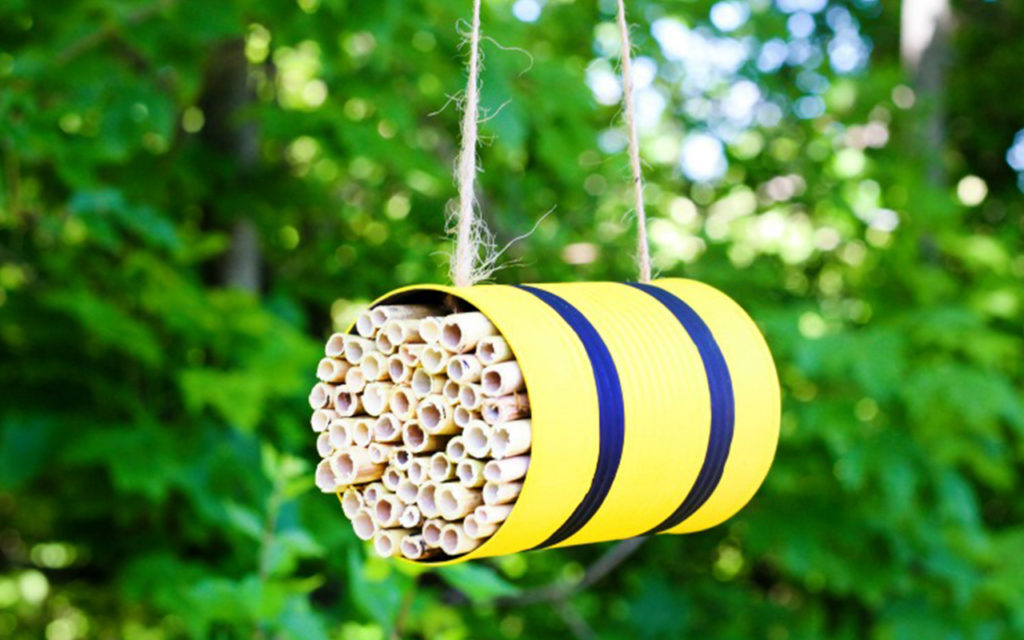 You'll soon start to notice them pollinating your gardens, flowers and veggie patches. Buzzing back and forth collecting pollen, nectar and building materials back to the hotel.
By the way, there's this little thing called Buzz Pollination, which is when a bee will hug a flower and vibrate so it becomes pollinated. This boosts particular crops such as tomatoes, eggplants and blueberries.
---
Bee hotel, motel, holiday inn?
We've been buzzing on about bee hotels. But some bee species prefer a little more of a simplistic stay. Something that is functional and more cookie-cutter. Mass produced, almost. Wait that doesn't sound like us? But this isn't about us, it's about the bees.
Clay nesting blocks don't look as aesthetically pleasing as other hotels, but it's all the Blue Banded Bees need. They like to build shallow nests in burrows, which is perfect for lightweight clay blocks that have burrows drilled into them.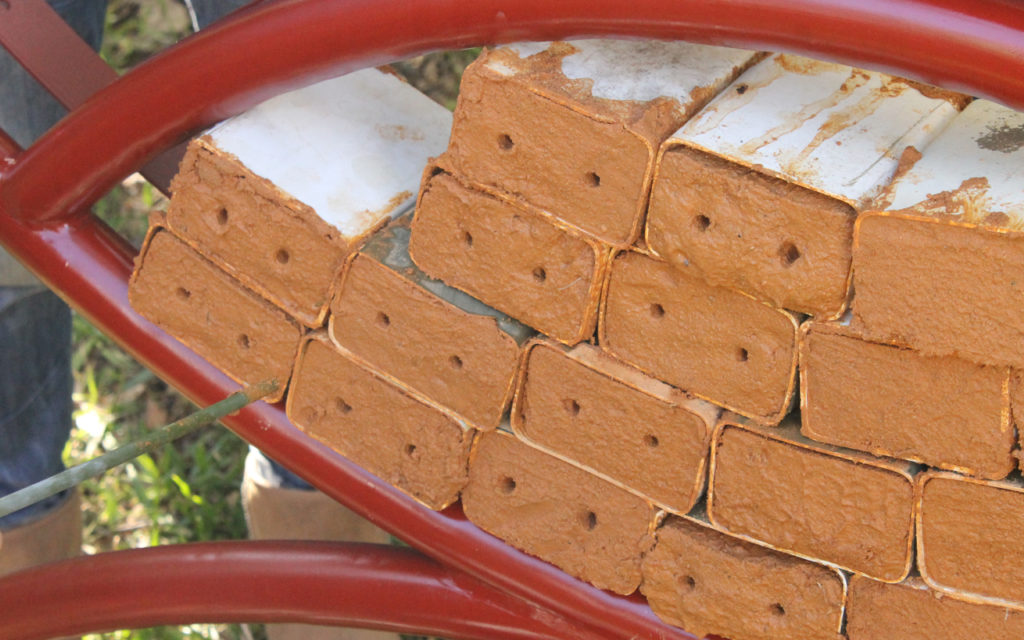 ---
Bee-autiful installations
Like we said before. Not only are you saving entire species of bees. You're creating a statement feature in your backyard that can sport any design you desire. Think bold hexagons, honeycomb vibes and patterns. Maybe you're into the raw and rustic look, that is typical for most traditional bee hotels.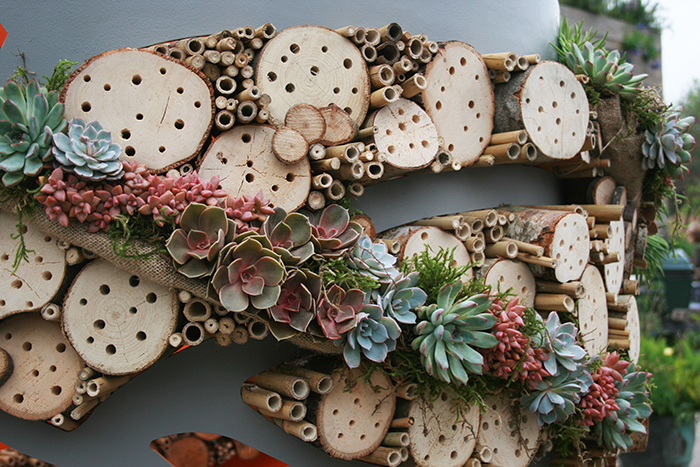 We encourage you to bee bold in your design. Play with unique shapes, textures, positioning, upcycling old furniture, repurposing materials and vivid colours. Some people have created artistic structures, towers and communities.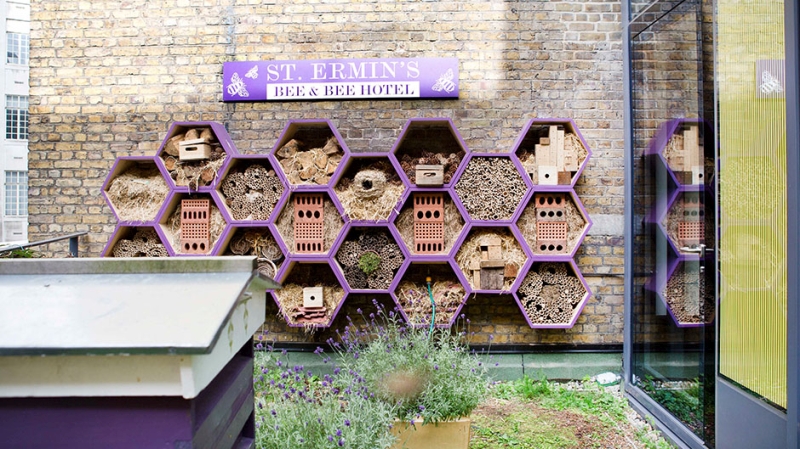 If we've inspired you to create your very own bee hotel, then we suggest heading to aussiebee for heaps more resources and the nitty-gritty guides on how to prepare materials for the right species.
Don't forget to add a bit of razzle basil to your garden with a vertical herb garden.
May the bees be with you.